The exciting musical flavoring of Stella Luna & the Satellites is the result of musicians with backgrounds from many musical genres banding together, breaking the rules and barriers of most musical templates, and forming a unique blend of rock, country, pop, r&b, blues, funk, reggae, and folk music.  Well-known songs from all of these genres ranging from the 1950's to the 2010's are stripped down, re-thought, re-worked and presented using creative instrumentation, exciting rhythmic twists and sweet mountain harmonies.
Stella Luna & the Satellites have created a buzz with their high-energy live shows performing today's current hits, crowd favorites and timeless classics from many different styles of music, providing the variety and excitement that many people have been craving when they enter a live-entertainment venue.
Dancefloors are filling up and crowds are singing along and stomping their feet to Stella Luna & the Satellites in venues ranging from small coffee houses and bar & grills to entertainment nightclubs, festivals and corporate events.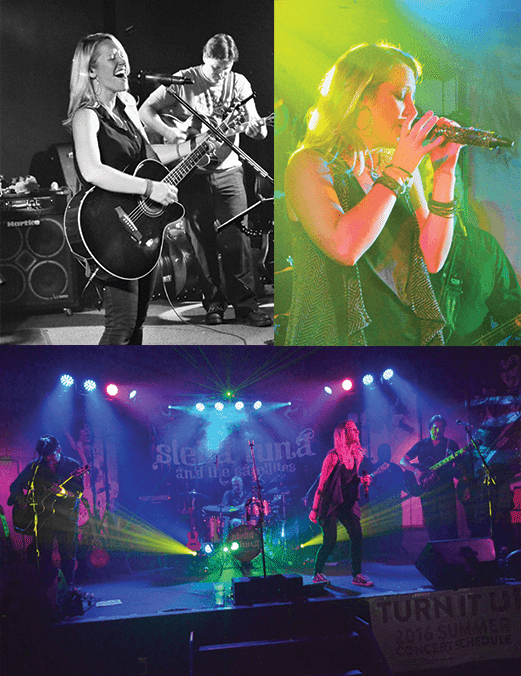 The Band
Stella Luna & the Satellites:
Morgan Turner ……..Vocals, Acoustic Guitar, Ukulele, Mandolin
Tom Turner …………..Acoustic and Electric Guitars, Vocals
Gary Rakow…………..Drums, African Djembe, Percussion
David Hetrick…….Acoustic and Electric Guitars, Vocals
Mark Bianchi………Bass Guitar, Vocals
A sort of upbeat mojo acoustic voodoo pop is pouring out of us and we can't wait to share our sound with you. Our influences run the gamut, so we'll just say we're inspired by every band and every song ever written. And of course, our friends and fans, otherwise known as the Lunatics are the lifeblood of our music.
«It goes beyond just talent. Stella Luna exudes love and positivity from their stage. They are so engaging and welcoming to your audience. It just pours out of them. This truly is a gift. Thank you for sharing it with people!!!»
– A Stella Lunatic 
GO TO MUSIC